Discover more from Madeleine Pires Artist
Flower Streets Murals painting
Welcome to my Substack!
I've been meaning to write some sort of online diary/newsletter for a while. My art career has got to the point where it is bigger than just me and my own interests. Due to the nature of my teaching and practical work, I constantly meet a considerable number of individuals in all sorts of places from all walks of life, who have shown an interest in my art and the opportunity I have now to paint 9 murals in Liverpool in the spring of 2023. Writing this seems to be the best way to keep everyone in the loop about how it's progressing, while being able to keep my mind focussed on the work.
The Flower Street murals opportunity - how did I get it?
Since completing my Fine Art degree in 2003, I've been developing my practice and my skills as an artist; I've had my website, mfaithart.com since 2005. I've had commissions and set up an online shop to sell prints and cards of my work, getting a little bit more impactful each year.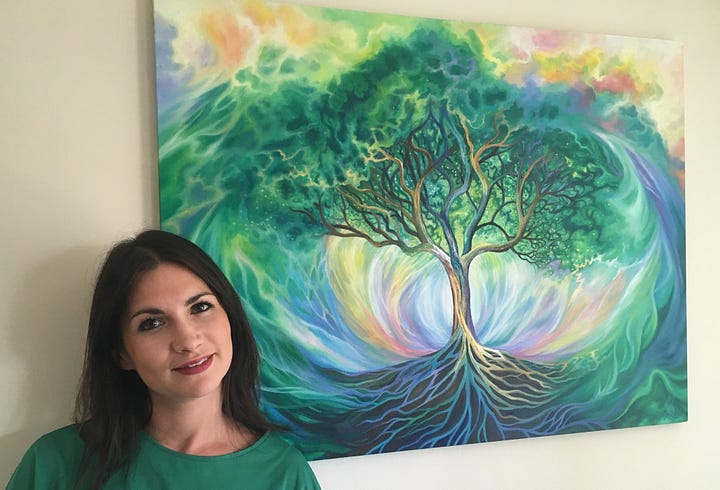 Also, I've been an artist member of dot-art Liverpool for several years, exhibiting my cosmic and landscape paintings, teaching school workshops, and teaching art courses that I've written myself on subjects I love: painting trees, abstract art, Chinese brush painting, quote illustration… Dot-art also sends out member opportunities for public artworks and residencies.
The Flower Streets murals is once such opportunity. The streets are all named after flowers, so this is the visual theme. Since I am so easily inspired by nature, and have experience in painting flowers, trees etc, I wrote a proposal in June 2022 with sketches for the walls and ideas for community workshops. On the 5th October 2022, I found out that Liverpool City Council with Culture Liverpool wanted to move ahead for me to create murals on all 9 walls, and that funding had been secured.
What exactly is the project?
The Council want to improve the environment for the local people and help them enjoy their neighbourhood more by beautifying these walls. Each wall is the gable end of a terrace house in the Kirkdale area of Liverpool. The walls are between 6.5 and 7.5 metres wide, some with archways that are 6 metres tall.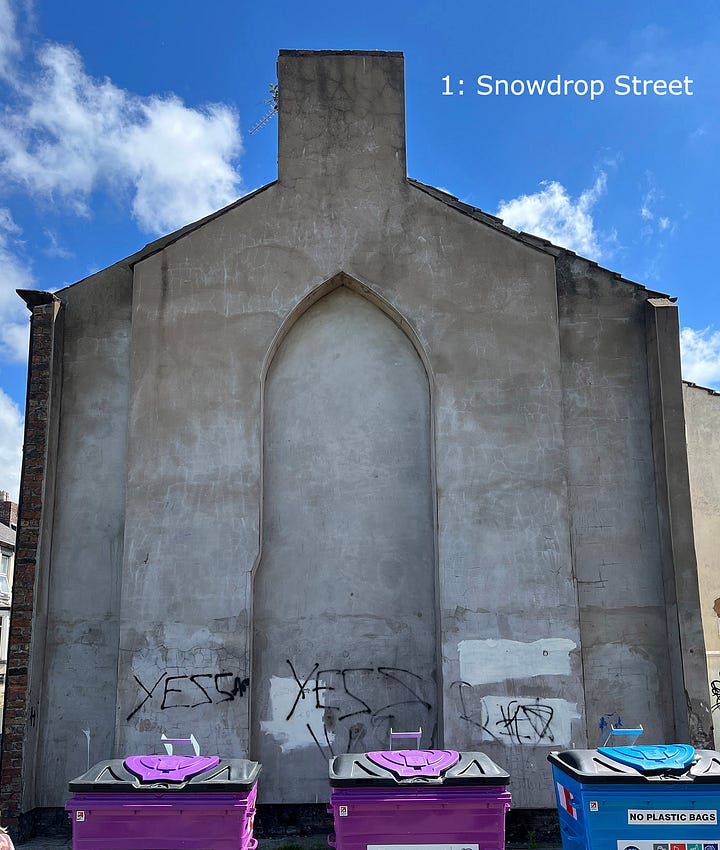 In my visual plans, I've put them in two groups, which are: Group 1: Huge flowers with idea of a stained glass window arch For 1 Snowdrop, 2 Pansy, 4 Daisy, 6 Woodbine and 8 Harebell, there will be painted a huge flower (or small group of the same flower) in the pointed archway that can be seen from a distance (from the main road and from above), as well as other features.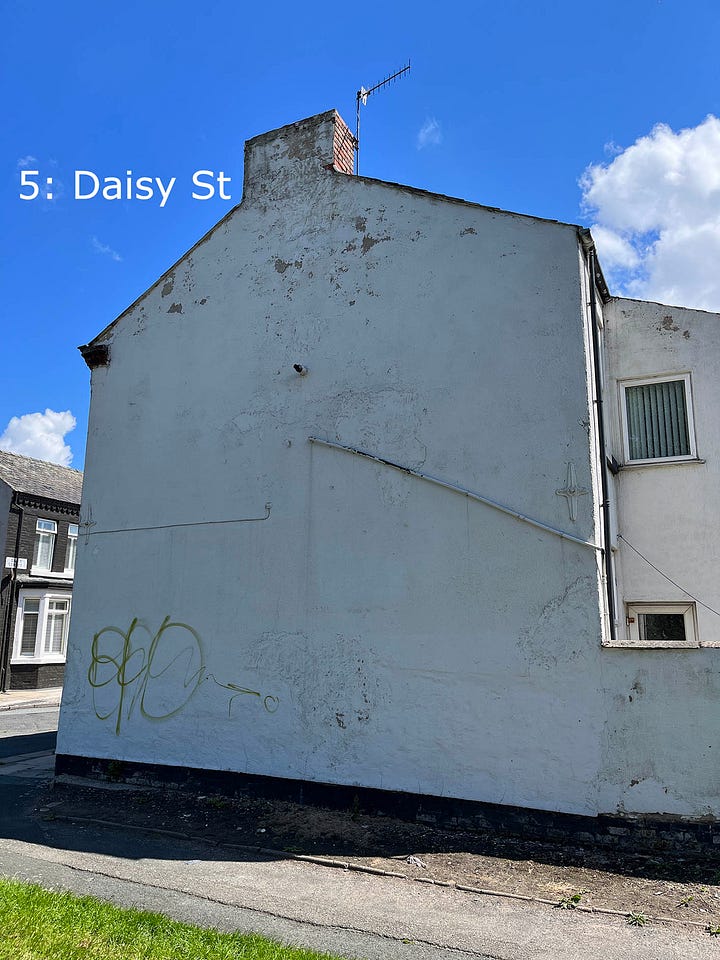 As you can see, some don't have an archway - these will be garden/landscape scenes with the idea of an archway leading the eye in. I've named them Group 2: Landscape/Garden For 3 Pansy, 5 Daisy, 7 Woodbine and 9 Harebell there will be more of a landscape/secret garden appearance incorporating their flowers as well as animals, birds, insects, leaves and other natural forms.
There is a community centre nearby, where there will be consultation sessions and workshops (spoken word/poetry and art) with the local people and children from local schools, which will feed into the creation and make it more personal to the neighbourhood. This will take place in January and February 2023.
Flowers as symbols and metaphors
You're probably aware that red roses are the symbol of romance, but did you know that pansies are the symbol of remembrance and friendship? This is because the name "pansy" originates in the French pensée, which means "thought"; it was so named because the flower resembles a human face, and in mid-to-late summer it nods forward as if deep in thought. Ophelia refers to them: "There's pansies, that's for thoughts", in Shakespeare's Hamlet (Act IV, Scene V). Here's my initial sketch for 2 Pansy Street.
Whatever comes from the community workshop on Pansies (led by Dr Pauline Rowe, a local poet and writer) I will transfer on to the wall in a thoughtful and artistic way.
I will do something similar for the other walls. Snowdrop as a metaphor of hope, for example; Daisy as a metaphor for cheerfulness and childlike innocence; Woodbine (Honeysuckle) as a symbol of pure joy, devotion and loyalty; Harebell as a metaphor for the "music of nature".
Practicalities…
"Yes, Madeleine, these ideas seem lovely in theory. But how are you physically going to do this? You're only 5ft 2!"
There are of course lots of practical challenges. For working at height, I have recently passed a scissor lift/cherry-picker training course, and will have an expert inspect the terrain and help me choose the correct machine for each wall.
I'm aware of what paint to use because I did an outdoor mural for a school a while back, and I shadowed an experienced street artist in 2021 who is now acting as my practical/artistic consultant.
Culture Liverpool are involved with sorting out the operational aspects and I also have dot-art's wonderfully organised Lucy Byrne as Project Manager, to help with all the arrangements.
Do you want any volunteers?
The people of Kirkdale will take priority when it comes to involvement. But this is a massive project and any help anyone can give me will be very useful, even if it's just standing to watch and pass me things, or to fetch me a cup of tea! Please bear in mind that you will have to be aware of health and safety requirements. You will not be allowed to go up in the access machines unless you have an IPAF certificate. But for painting the lower parts of the walls (bottom two metres) I will have plenty of fun tasks to delegate! It would be especially good for anyone arty who wants experience in large scale work and visual problem-solving.
I suggest anyone wanting to help, even for one day, subscribe first to this Substack to see how the project develops, and do send me an email if you live in the Liverpool area and seriously want to help out.
Thank you for your interest
By subscribing, you will stay updated with an insider's view of the flower murals project, as well as following the main steps and insights of my artistic journey. You'll be part of a community of people who share your curiosity and interest in how art improves lives. I welcome any comments and suggestions, as well as your positive thoughts, vibes and prayers for this project to be a blessing to the people who live there.
---
Thanks for reading Madeleine Pires Artist! Subscribe for free to receive new posts and support my work.